Poftă bună!
In my quest for a lunch recipe that is easy to make and easy to assemble and that fits into the Hubby's Bento Box and that's delicious AND vegan I stumbled upon Jamie's recipe for The best vegan burger. And let me tell you my dearest dearest readers that if a hyperbolic title was ever true it's this time!
"Packed with flavour, these vegan corn burgers are healthy and seriously satisfying. "
---
Ingredients
1 x 400 g tin of chickpeas
1 x 340 g tin of sweetcorn
½ a bunch of fresh coriander (I used dried, and it was just fine 🙂
½ teaspoon paprika
½ teaspoon ground coriander
½ teaspoon ground cumin
½ teaspoon ground turmeric (not in the original recipe, but I'm currently having a love-affair with turmeric, so I'm putting it in everything!)
zest from 1 lemon
3 heaped tablespoons whole wheat flour , plus extra for dusting
rapeseed oil (again, I used olive oil and it was lick-your-fingers delicious)
1 small round lettuce
2 large ripe tomatoes
2 ripe avocados
tomato sauce
4 wholemeal burger buns
---
Method
Stars by draining the chickpeas and sweetcorn, and add them to the bowl of your food processor.
Add the spices, salt, lemon zest and flour and pulse until combined, BUT stop before it turns into a paste. Remember, you still need a little texture.
Divide the mixture into 4 equal-sized patties about 2cm thick on a flour-dusted surface, and then place them in a fridge for about 30 minutes.
Heat a little bit of oil in a non-stick frying pan and cook the patties over medium heat on each side until golden. I'm considering placing them in the oven next time, and I"ll let you know how that turns out.
Assemble and enjoy! Bread bun + tomato sauce + veggie patty + tomato slices + avocado + bread bum.
---
Packing tip
Pack the bread separately to keep it fresh, and place the buns on a bed of spinach leaves to keep them fresh.
---
Bon appetit!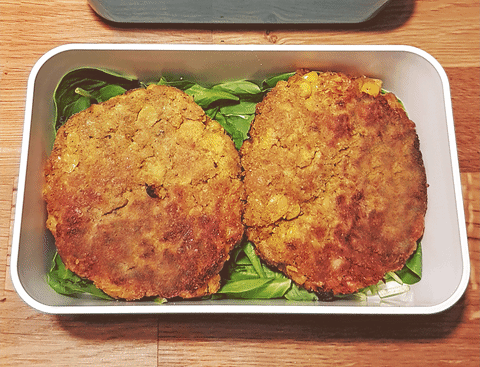 Live beautifully!
Hello! My hame is Ioana and I am a BOXaholic! Ever since I was a little girl there was no box I could resist, whether it was my mother's hand-carved jewelry box, or a simple cardboard one. So how can I not extend the same fascination to lunch boxes, since these include my second favorite thing: food! And since this week I'm starting a new blog section titled Bento Box Lunch, this feels like the perfect time to give you a selection of my 5 favorite lunch boxes:
1. Bento Box by TAKENAKA – €17
Gorgeous, sleek design that comes in a variety of sizes, colors and prices to fit all budgets, this is the Bento Box to make you forget about all others. Oh ya, and did I mention it's the one I got for packing lunches for the Hubby?! And we all know that a good Hubby deserves only the very best! So yes, at least when it comes to lunch boxes, the Japanese definitely do it better!
2. Black & Blum Box Appetit Lunch Box – €26.67
I discovered Black + Blum while updating my ASOS Wish List, which just goes to show you that you don't always get what you want, but you definitely get what you need. In this case, this beautiful Black & Blum Box Appetit Lunch Box. With its water-tight lid, sauce dipping area and separate trays for different meals, this "is the one for your weekday lunch, on-the-go eats and chillin' in the park duties."
3. Black & Blum Lunch Pot – €26.67
And I'm not finished with Black & Blum, but we're moving on to the Lunch Pot by Black & Blum for those us you who prefer a more liquid lunch. Ok, that didn't sound very appetizing, but we all know it is, so lets move on to what this lovely little pot can offer you: water-tight design, small pot fits into larger pot when empty, AND it comes with a carry strap. I don't know about you guys, but my next ASOS shopping spree will surely include this pot.
4. Happy Jackson Hello Lunch Box – €11.99
We can't have a proper Lunch Box selection without at least one that is simply pretty! And the Happy Jackson Hello Lunch Box doesn't just come with a cute slogan in a cheerful color, but also with a removable compartment and a secure clip fastening. Not microwave-friendly, but oh-so-pretty!
5. Pusheen Snack Pots – €10.67
And a very special surprise for all of you who made it to the end of this post! Yes, good things do come to those who wait. Without further ado, I give you **drum roll** the Pusheen Snack Pots! I rest my case.
Live Beautifully.